Hanukkah just wouldn't be complete without a dreidel, so here's one: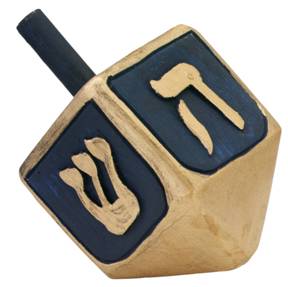 And one more for good measure:
But of course, where there's a dreidel, there's also the "Dreidel Song," and so many different ways to sing it. For example, you can croon it like Frank Sinatra, Tony Bennett, or good old Sammy Davis, Jr., as Kenny Ellis does here:
And you can do it up hip hop style like Erran Baron Cohen (brother of Sacha Baron Cohen) does:
And you can sing it a cappela, like the quartet Rockapella does in this amateur video (first few seconds on the footage is black):
And how about taking a look at some more dreidels, like this one:
And have you ever heard anything like this electronica version of the dreidel song?
And have you ever heard the new lyrics added to the song, here performed in a traditional manner?
And can you imagine dreidels on Broadway?
So maybe you get the point that dreidels are really super:
Of course, you don't have to be Jewish to appreciate dreidels, as Don McClean of "American Pie" fame demonstrated with his Top 40 hit from 1972, "Dreidel":
And you don't have to be Jewish to play the dreidel game, or enjoy Hanukkah, as this original "Dreidel Song" from Incubus makes crystal clear:
Get Your Dreidel On!
And Happy Hanukkah!