Some years we can't help but remark that Hanukkah is coming early, even though Hanukkah always begins at the same time each year, the 25th of Kislev on the Hebrew calendar. This year, Hanukkah seems to be very much in sync with the secular calendar, but that didn't stop the White House from celebrating the holiday early, almost two weeks early, in fact.
Here now is a look at the Hanukkah party hosted by the President on December 8, 2011, featuring Barack Obama's greeting to all those assembled:
To prepare for this celebration, the White House kitchen, which is not normally kept kosher, had to be specially kosherized:
And what was on the menu, you well might ask. Well Obama Foodorama, "

The Blog Of Record About White House Food Initiatives, From Policy To Pie," reports the following:
A Kosher menu...

with sushi rolls


The reception had a buffet of Jewish holiday specialties--as well as sushi rolls, which were also served last year. The kitchen was Koshered for the event, and the menu was prepared under the strict rabbinical supervision of

Rabbi Levi Shemtov

, Lubavitch Center of Washington (Chabad), in cooperation with the Rabbinical Council of Greater Washington, according to the White House. The Meat was Glatt Kosher - Chassidishe Shechitah. All baked goods were Pas Yisroel; all wines were Mevushal. The foods were prepared Lemihadrin with a Mashgiach Temidi.



2011 Hanukkah Reception Menu





Roulade of Chicken Breast




Fresh Thyme Sauce




Arugula and Fresh Artichokes




Garlic Mashed Potatoes





Filet of Beef




Au Jus




Caramelized Pearl Onions




Shiitake Mushrooms





Pine Nut Herb Crusted Lamb Chops




Mango and Mission Fig Chutney





Homemade Potato with Scallion Pancakes




Apple Sauce





Dill and Vodka Scottish Smoked Salmon




Non-Pareil Capers




Chopped Egg Whites

and Yolks




Parsley




Lemon Wedges





Assorted Fresh Sushi Rolls




California Roll




Spicy Tuna Roll




Vegetable Roll




Pickled Ginger




Wasabi





Winter Squash Salad





Assorted Rolls





Dessert

Station




Homemade Soufganyot




Crème Anglaise




Raspberry Jelly




"An assortment of homemade desserts"
The decision to hold an early Hanukkah party was met with some criticism from critics and opponents of the President--must everything be politicized and polarized these days? Obama did issue a statement of Hanukkah greetings on December 20:
Michelle and I send our warmest wishes to all those celebrating Hanukkah around the world.

This Hanukkah season we remember the powerful story of a band of believers who rose up and freed their people, only to discover that the oil left in their desecrated temple -- which should have been enough for only one night -- ended up lasting for eight.

It's a timeless story of right over might and faith over doubt -- one that has given hope to Jewish people everywhere for over 2,000 years.

And tonight, as families and friends come together to light the menorah, it is a story that reminds us to count our blessings, to honor the sacrifices of our ancestors, and to believe that through faith and determination, we can work together to build a brighter, better world for generations to come.

From our family to the Jewish Community around the world, Chag Sameach.
And here's some charming amateur footage of the lighting of the National Menorah in Washington, DC on December 20, 2011:
The American celebration of Hanukkah is indeed a celebration of freedom, of how a small band of rebels defeated the forces of a mighty empire and secured the independence of a nation, and the right to practice their own religion free from persecution or interference.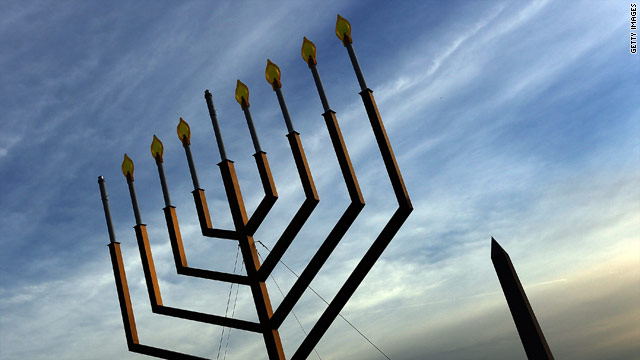 And so, we at Congregation Adas Emuno, Wish You A